Send2CRM for Sales
Connect Salesforce to all your websites
Send2CRM captures web intelligence and makes it available to sales teams. This intelligence lets sales understand the visitor's state of mind prior to making contact. When teams learn more, they can personalize the visitor's website experience from Salesforce throughout the selling journey. Teams can drive website personalization from Salesforce and leave personalized messages on the website for returning visitors.
• Provide up-to-the-minute sales intelligence
• Accelerate lead qualification
• Rapidly prioritize leads
• Personalize web content based on web behavior
• Personalize the website as a sale progresses
• Tag specific website behavior to identify key activity
• Create messages in Salesforce for returning visitors
• Track returning visitors and alert a team member
• Base follow-up timing on renewed interest
• Automate processes using Salesforce workflow



Turn anonymous website visitors into leads in Salesforce
Capture the behavior of individual website visitors and  form data and push it to Salesforce records. Gain valuable insights into your prospect's browsing history, interests, and engagement level. Send2CRM automatically creates new leads and updates existing ones. Form mappings are quickly created and updated in Salesforce. Map to Salesforce records e.g. leads, contacts, cases, or multiple objects related to each other.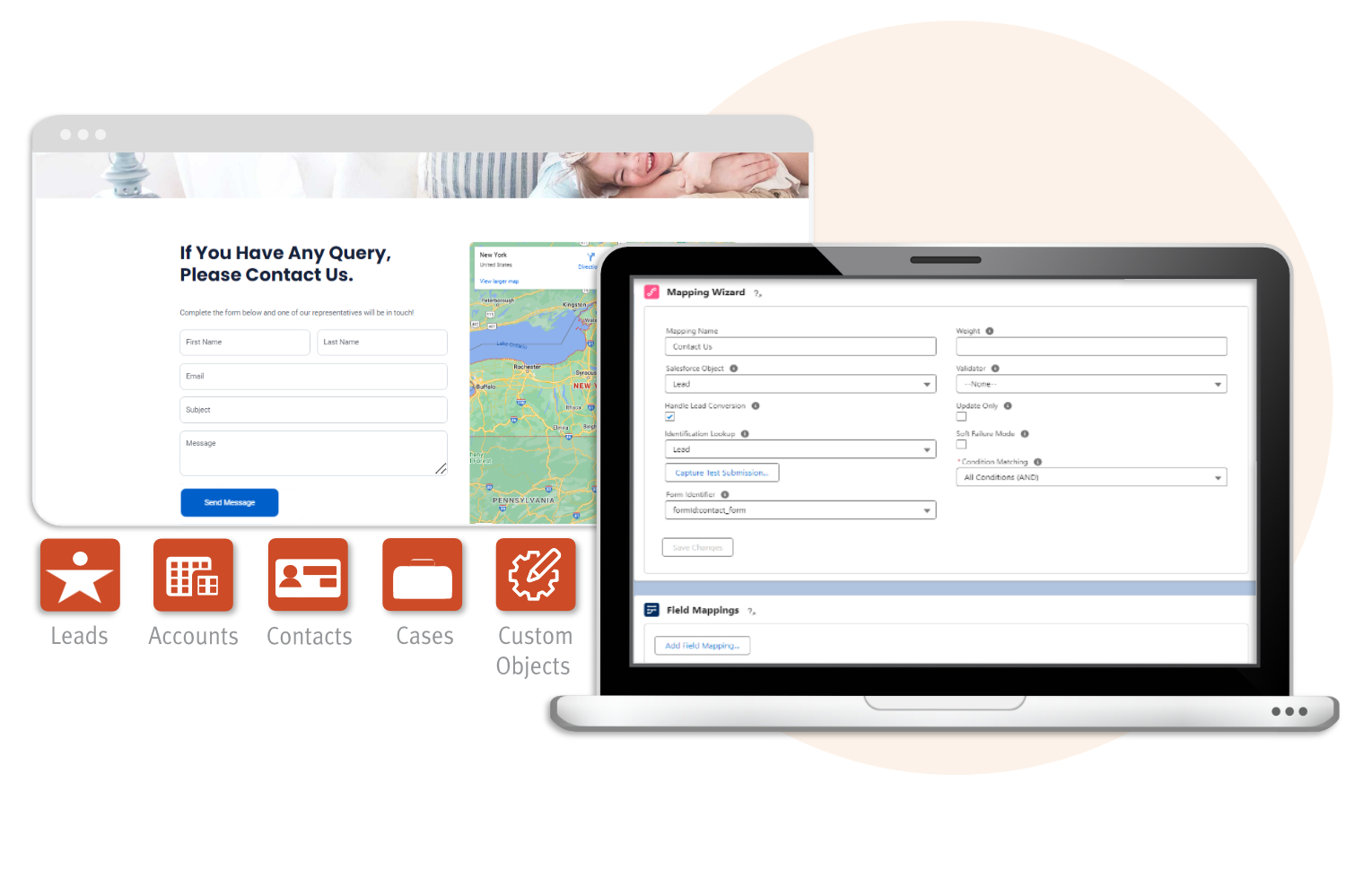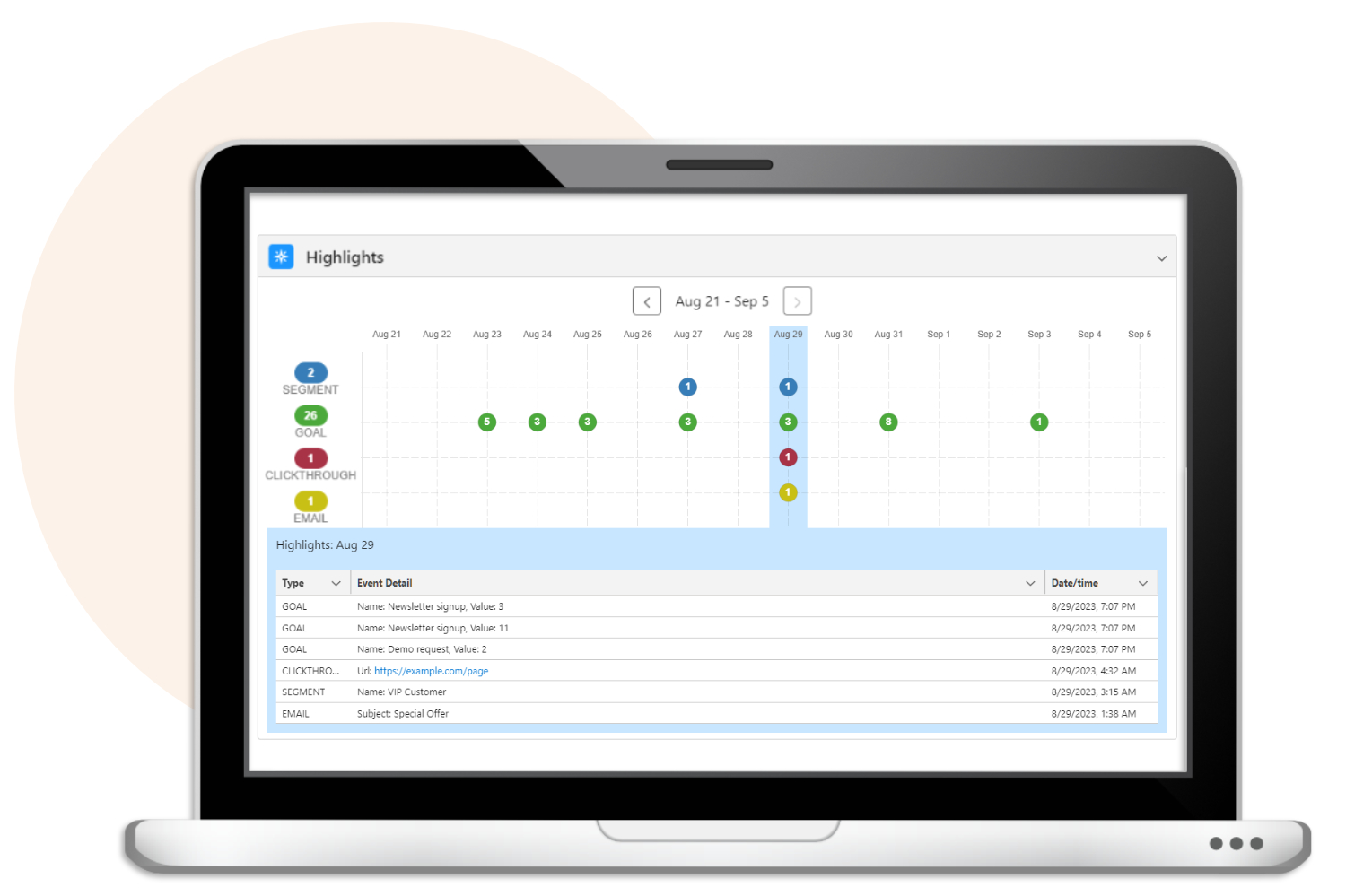 View lead highlights for precise sales opportunities
Prioritize the most relevant events and behaviors to ensure your sales team focuses on the metrics that are crucial to their sales objectives. With Send2CRM, your sales team can decide which website events to highlight—whether it's individual visit details, page views, goals, segments, email contacts, or custom highlights. This understanding of what captures a visitor's attention empowers your sales team to tailor their approach and messaging for more effective lead nurturing.
View overall lead intelligence 
Send2CRM enables you to view overall web behavior of all visitors in the dashboard. It shows e.g. number of recent visitors, number of recent visits, number of pages viewed, and other vital statistics. By analyzing website behavior across all leads, you can identify patterns and trends and determine which channels and sales tactics are most effective.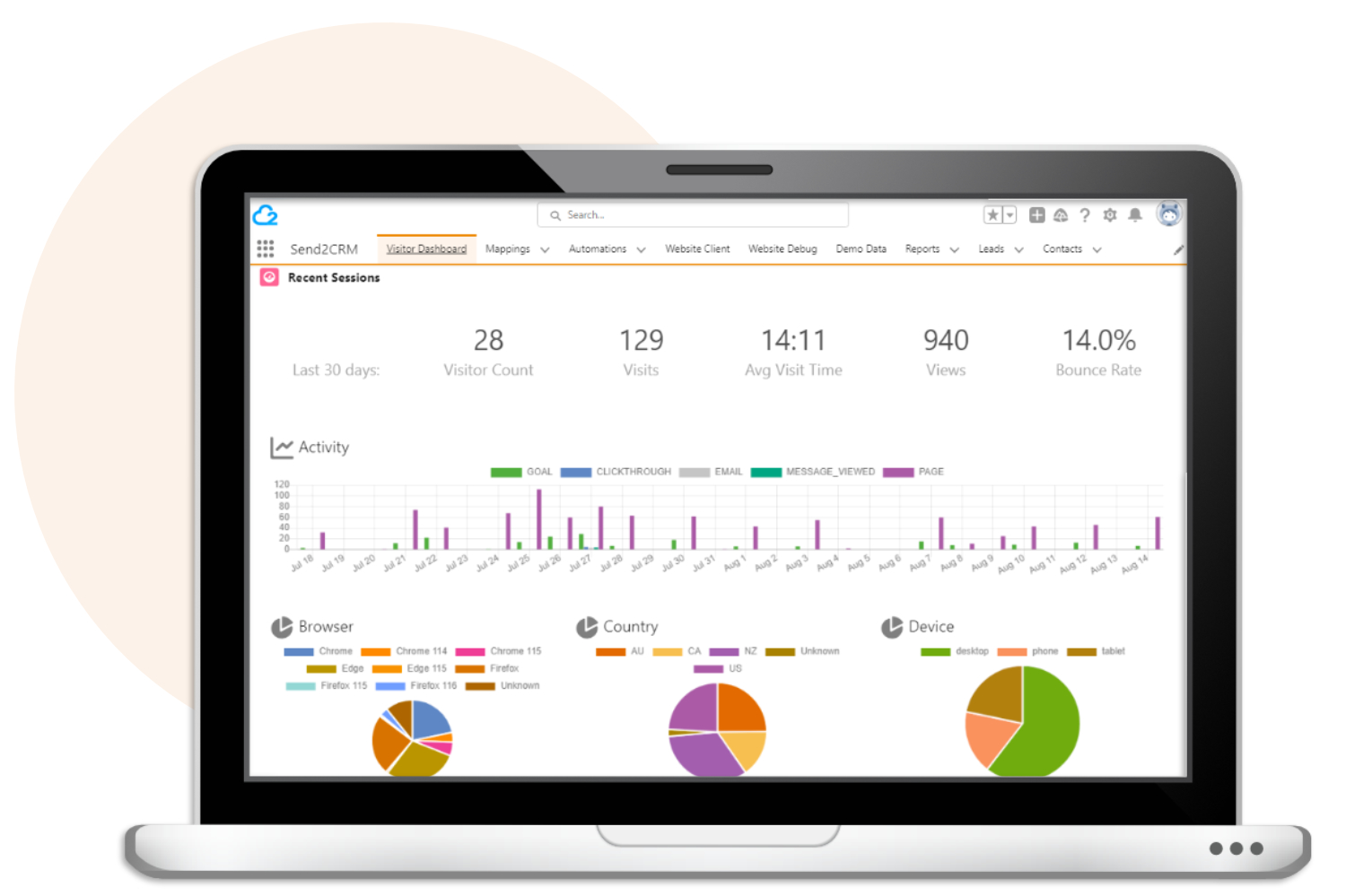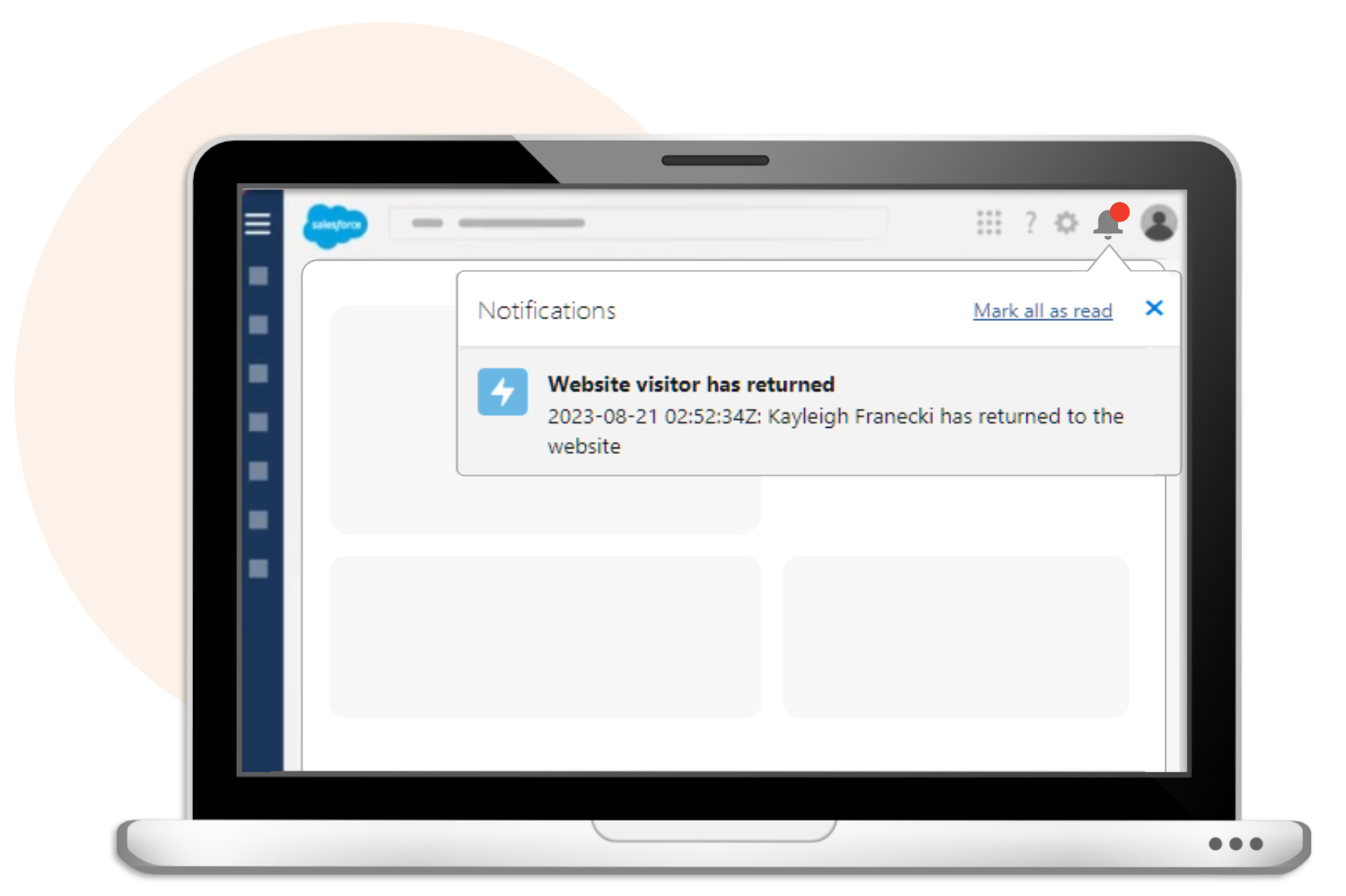 Use return visit tracking to identify renewed lead interest 
Send2CRM sends alerts when an important visitor returns to the website, enabling sales to re-engage at the optimum time and provide targeted support. You will be wel prepared for the call, as the Salesforce lead record shows their specific web behavior and form data that Send2CRM captured.
Indicates an ideal time to follow up

Captures renewed interest in a callback report

Tag and collect important returned visitors in a marketing campaign 
Segmentation
Regular outreach (email) campaigns can be personalized based on web behavior.
Create campaigns based on visit frequency, recency, and behavior to engage high-interest visitors. Prioritize leads showing strong engagement for better conversion chances. Reach out promptly while their interest is high, and offer incentives that match their interests for maximum impact.
"Send2CRM brings personalized engagement by delivering targeted web content and messaging throughout the sales cycle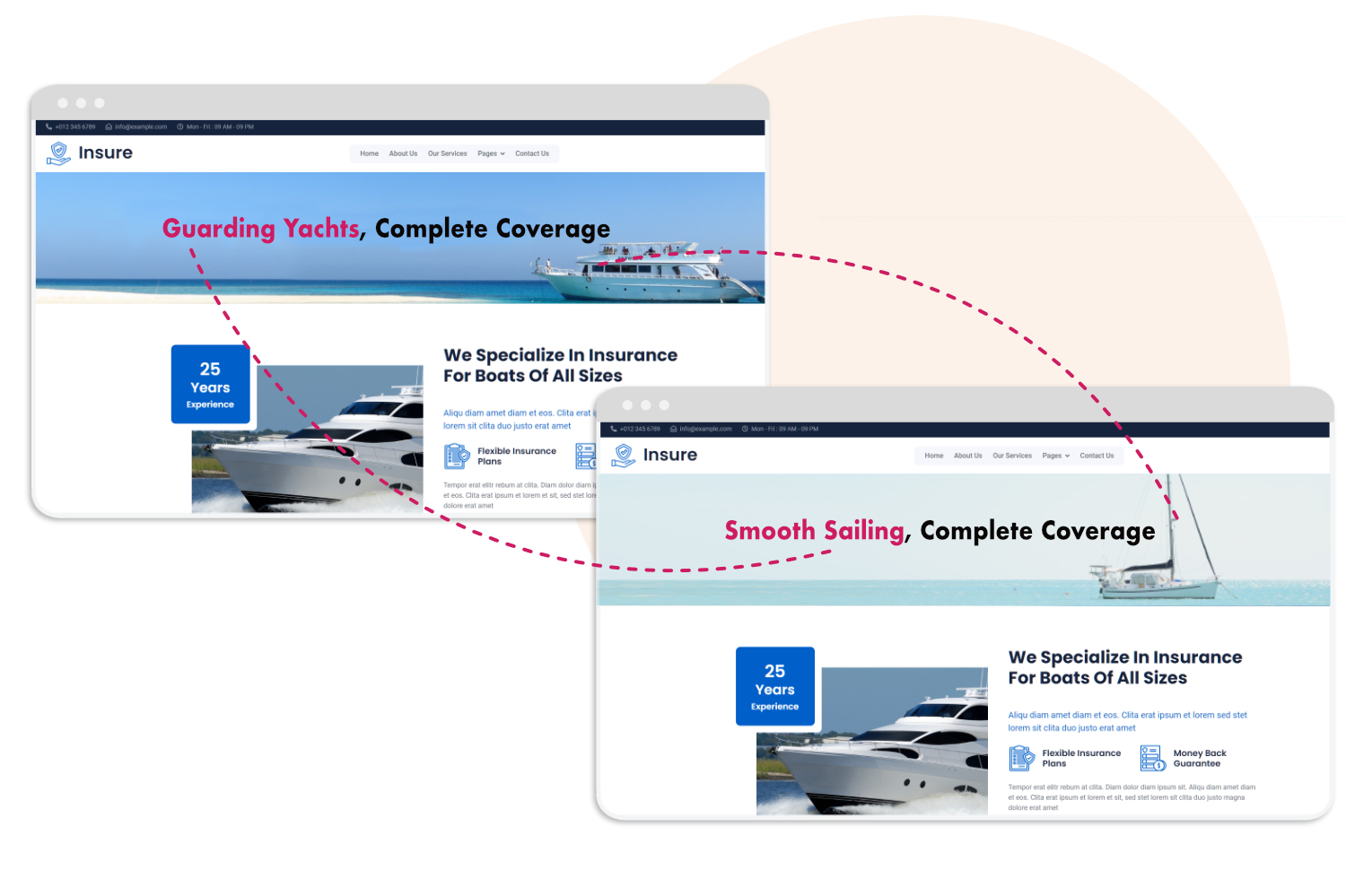 Personalize Web Content from Salesforce
Use your data to showcase your grasp of your customers' individual needs and interests. Adjust your web content to match the buying stage of the visitors and other lead settings.
Deliver targeted web content (images, text, etc.)

Land visitors to a relevant or targeted landing page

Personalize content throughout the sales process
Bring personalized messaging 
Achieve deeper engagement using web channel communications. Leave individual messages for visitors on webpages and track their responses in Salesforce. Create a 'wow' factor by delivering dynamic content during sales calls, such as linking to shared calendars, route maps, and offering upsell and cross-sell products.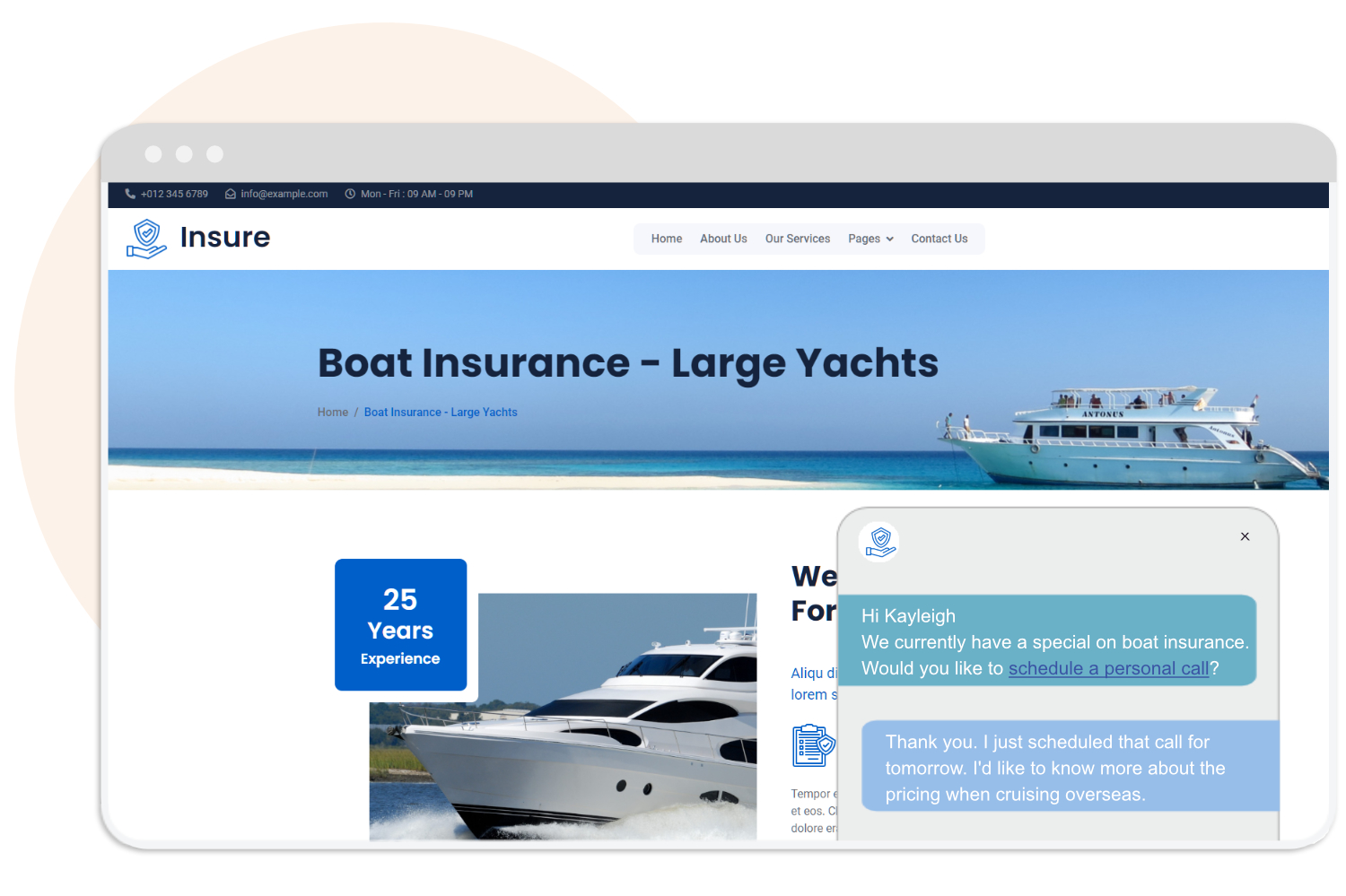 We have several Send2CRM Salesforce packages available:
---

Connect any CMS tool to Salesforce
Send2CRM connects any CMS tool to Salesforce can drive multiple websites across an entire organization from a single user interface in Salesforce.


Website integration with dual-mode personalization
The ultimate way to support your sales team.