Information Governance
FuseIT specializes in transferring documents from cloud-based CRMs to electronic document and record management (EDRMS) systems. Our integrations breathe new life into an EDRMS by extending its access, automating repetitive processes, and implementing usage efficiencies.
Improving Record Management Compliance

Search, view, and download Content Manager files from SalesforceCentralized record-keeping is a must-have for any large organization. The ideal is a single repository that robustly controls the management and protection of all documents from creation to destruction. An ERDMS is purpose-built to achieve this.
Conceived in the 1990s, EDRMS systems tend to have a long life. This is caused by the huge volumes of record data contained in them and the cost and challenge of migrating that data to an updated system. A clever way to modernize these systems is integration with a cloud-based CRM.
FuseIT solutions store and manage CRM documents related to customer interactions. We ensure all documents are up-to-date and easily accessible across an organization. Data governance is improved which fewer data inconsistencies. Connecting an EDRMS to a CRM increases document visibility, improves auditing, increases compliance, improves data security, and enhances data privacy. Other benefits include improved operational efficiency, cost savings made by eliminating manual data entry, increased collaboration, greater job satisfaction with workers unburdened from manual record keeping, and less overall risk of data breaches. Centralized record-keeping reduces security issues by providing a more secure and controlled environment for managing sensitive data.
FuseIT integrations transparently sync CRM files and records to configurable EDRMS locations:
When a file is manually uploaded to the CRM, it is pushed to a mapped container in the EDRMS, and a link is added to the CRM record

Inbound emails to the CRM can be processed. The email message and attachments are created in a new CRM case. The case is converted to an RTF file, and along with the associated files, pushed to a mapped EDRMS container

A user can initiate a file search from the CRM by entering the file name, or other metadata texts. The required file is returned to the CRM for viewing by the user

A CRM user can click the "Save Record to EDRMS" button to save any record to the EDRMS as an RTF file

Integration eliminates double handling of files by automating file management

Users can access, process, and archive EDRMS files from within the CRM

Users can access EDRMS files from anywhere, at any time, and from any device

Integration potentially lowers EDRMS licensing costs if generic file access is provided through the CRM

Data storage costs are reduced for companies that regularly exceed CRM storages caps 

EDRMS be extended without significant cost

EDRMS can become a single source of data to eliminate duplicates and improve data integrity

Improved efficiencies as files and metadata are only entered once, in either system

Compliance increases as users add files to the EDRMS via the CRM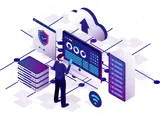 FuseIT's current EDRMS integrations are:
Website integration with dual-mode personalization
The ultimate way to support your sales team.