FuseIT Downloader Installation
| | |
| --- | --- |
| MD5 Sum: | B42621E8FF6759A1D0716666C803B9A9 |
| Download Directory: | Files |
The  FuseIT Downloader is a subscription-based tool to put a GUI around Salesforce Data Export processing and automate downloads from other endpoints. The FuseIT Downloader will install and run but not download files without a license. This should allow you to confirm your environment and suitability. The installer has a client and a service. The in-app licensing has two tiers:
Single Seat (single machine, single user)
Allows one user running a unified instance to connect up and do as many downloads and orgs and sites as needed. In this situation, install the client and service together (default). Example usage: You are a developer or an admin running everything off your desktop.
Enterprise (split configuration, multiple users)
Service runs on one machine, client on another, and multiple users. Example usage: Several team members could be connecting to a central download server in the cloud 
Trial 
Want to explore Downloader? Complete the installation and limited features will be available.

The client runs on Desktop OS Windows 10 20H2 or newer. The service component runs on a wider range of Windows Desktop or Server OS. The Microsoft Defender SmartScreen may pop up during the installation with the following message: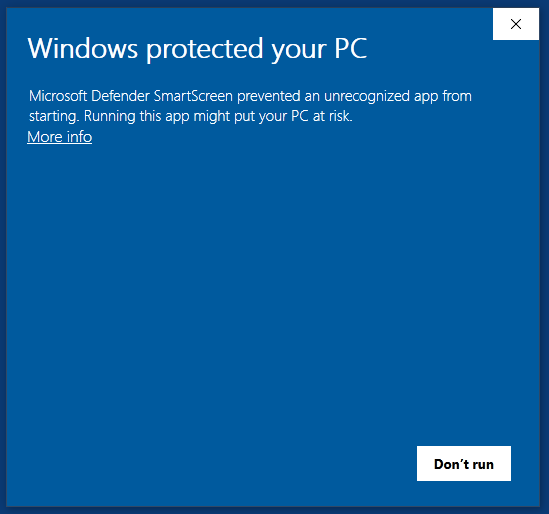 Click the More Info link in the window. The following window will pop up: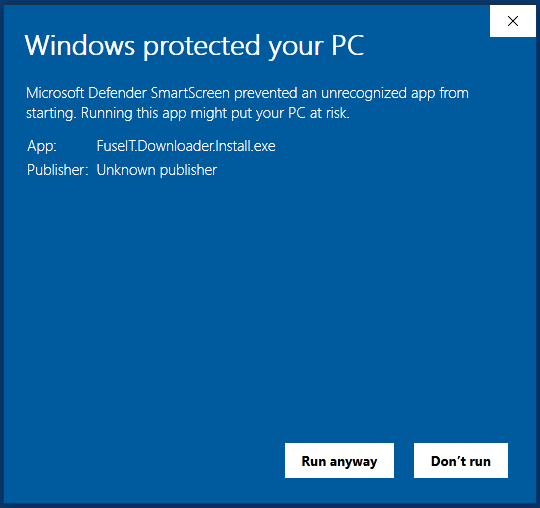 Click the Run anyway button to start the installation.